An Unforgettable Vacation Experience
No matter what brings you to Charleston—a well-deserved girls' weekend getaway, destination wedding, family vacation, or business travel—our four luxury rentals offer you the best of both worlds. Guests can experience all the celebrated history and culture of The Holy City and a tranquil, elegant retreat to call home.
Let us show you why Charleston is Travel + Leisure's "World's Best City" and why The Charleston Chestnut Mansion is the only place to stay when experiencing it.
Timeless Charm Awaits
Our newly-renovated, expansive residences on storied East Bay Street (just one block from Market Street) are a quick stroll to historical attractions and museums, the arts, fine dining, nightlife, and unparalleled shopping. Along the way, pop in and out of art galleries, antique shops, and cafes. At the end of a long day exploring Historic Downtown Charleston, there is no better place to kick up your heels and relax than in our luxury residences.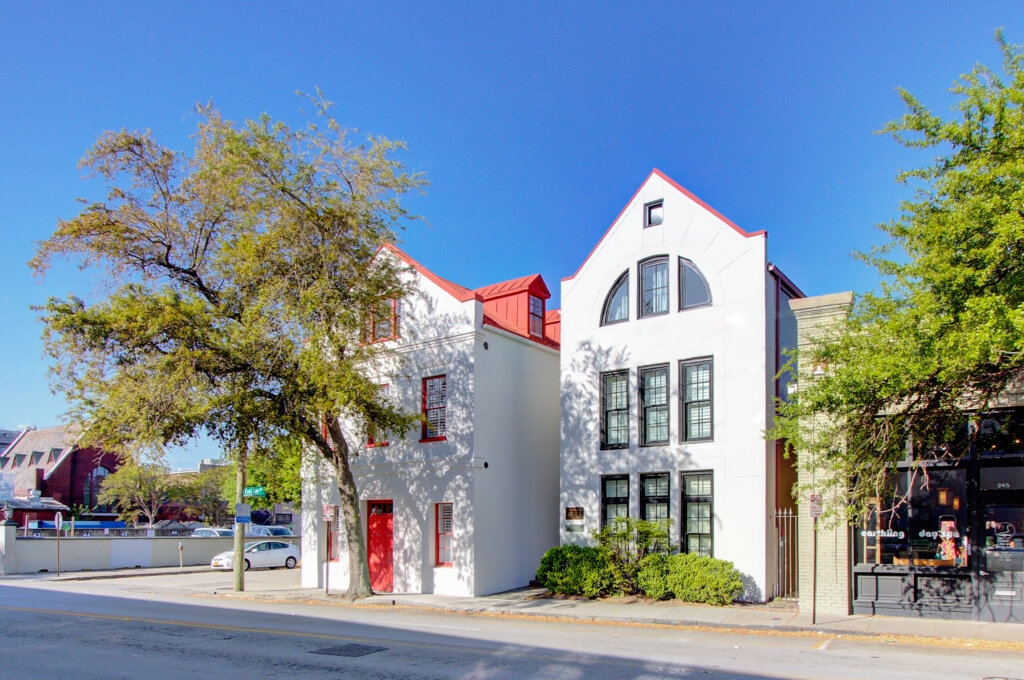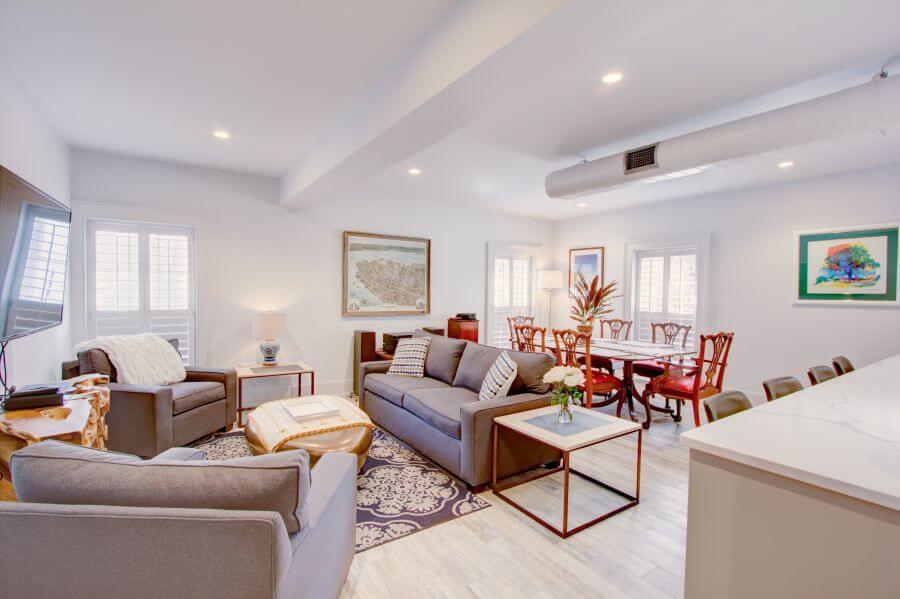 1st Floor – Jasper Suite
1,500 sf | 2 bedrooms | 2 full bathrooms
The Jasper Suite accommodates up to four guests with two bedrooms (one King and one Queen bed) each with an en suite bathroom.
1st Floor – Chestnut Suite
1,500 sf | 2 bedrooms | 2 full bathrooms
The Chestnut Suite features a large breakfast bar and two bedrooms (one King and one Queen bed) each with an en suite bathroom.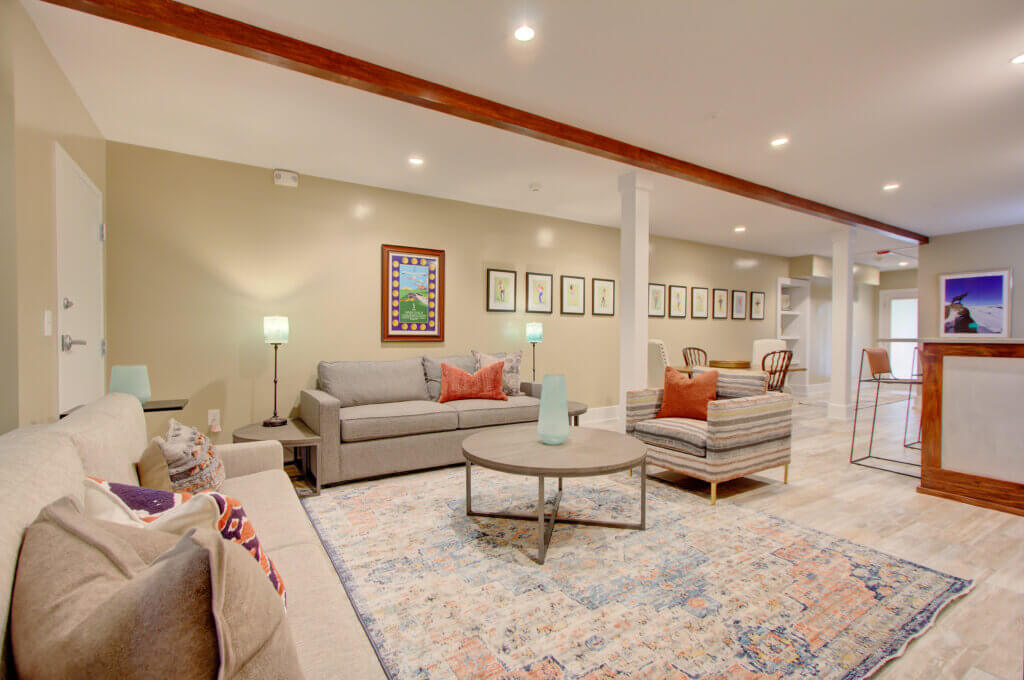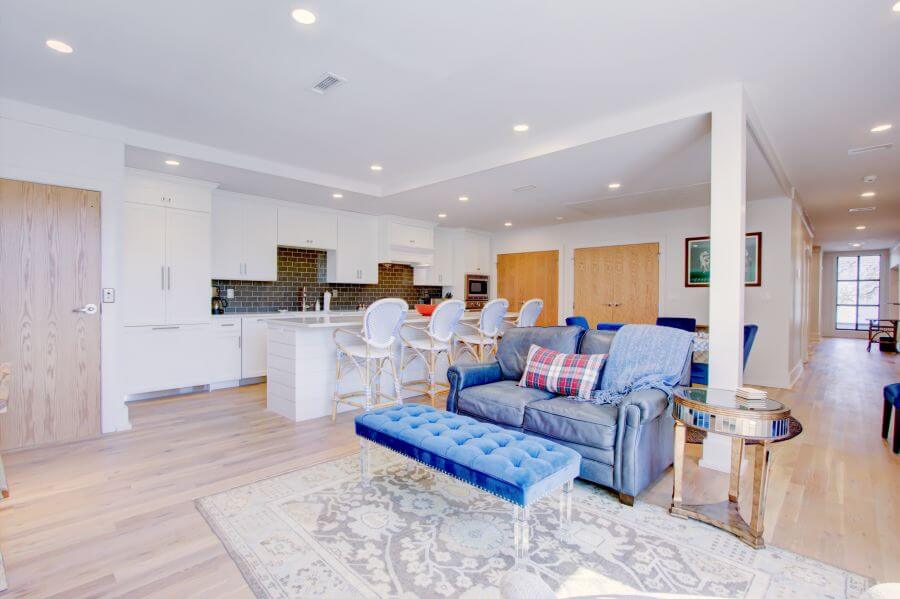 2nd Floor – Steeple Suite
3,000 sf | 3 bedrooms | 3 full bathrooms
The largest suite, the Steeple captures views of St. Philip's Church with plenty of room for up to 6 guests. Double primary bedrooms feature King beds and en suite bathrooms, one with a large soaking tub. The third bedroom has a Queen bed and bathroom adjacent.
3rd Floor – Sail Loft
2,700 sf | 3 bedrooms | 2 full bathrooms
The penthouse suite, Sail Loft features cathedral ceilings and exposed beams. It has one primary bedroom with King bed and en suite bathroom. A bedroom with a Queen bed and an alcove with double twin beds share an adjacent large bathroom.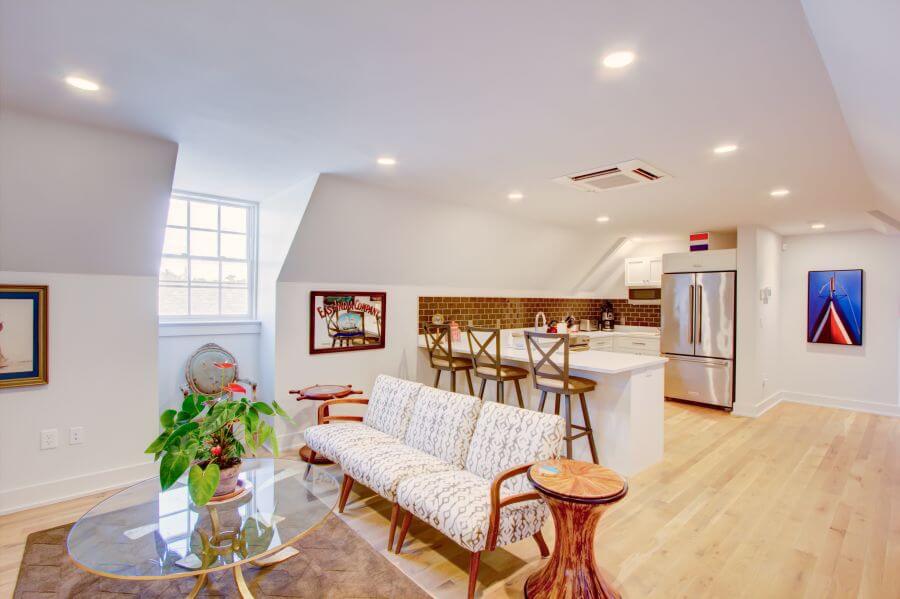 Welcome, Furry Friends
We want your pets to feel as welcome as you do during your stay. With advance notice, we can provide dog beds and water/food bowls. Charleston is dog-friendly, so there are plenty of places to walk and where the whole family can enjoy. We ask pets not be left unattended and be house trained and up-to-date on vaccines. Guests are asked to sign and agree to our Pet Policy and Fee prior to arrival.
A Note on Accessibility
Due to the historic nature of our buildings, there are a couple steps from the sidewalk and parking lot up to the front entries of the first floor residences and to access the upper floors. Once inside, there is an elevator to the second floor only. Please call us if you have questions regarding accessibility.